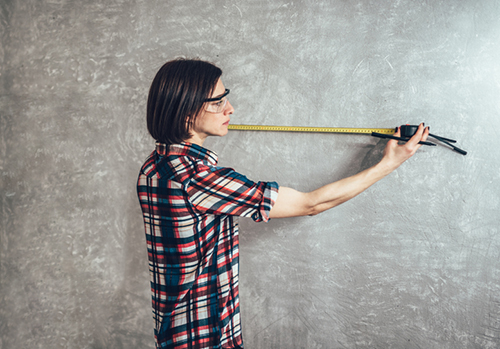 Welcome back! Part 3 of your dream kitchen planning process is to thoroughly and accurately measure your space.
Giving your Kitchen Craft Designer a set of room dimensions that are detailed and precise is very important because there are so many variables involved which can affect the final results.
For example, not including such crucial details as the location of your plumbing, electrical or heating/ac could force you to adapt and potentially make some costly changes to your ideal design, thereby affecting your kitchen remodeling budget.
If you are not comfortable measuring your space yourself, your Kitchen Craft Store offers a measurement service whereby one of our experienced staff will come to your home and measure your space for you. Another reason why choosing Kitchen Craft is always a good idea.
Measure Your Space – Where to Start?
Before you pick up your measuring tape, pencil and paper, there are a few considerations you should be thinking about which will help you determine a rough idea as to what your final kitchen space will look like, as well as how it will work for you based on your needs.
Take a look at the following list of questions and make some notes about their answers as you measure your space:
How many people will be cooking in your new kitchen, and do they have special requirements?
Does the layout of your space allow for a table and chairs, or do you have a separate dining room?
What about any small appliances you may have, and will they require storage?
Will your kitchen design include an island? What size and what will its function(s) be?
How do you use your kitchen – just for cooking, or for other things like entertaining or homework?
Does the existing layout of the surrounding space lend itself to more of an open concept or contained kitchen?
Will you be including a set of brand new appliances, or recycling the ones you already have?
Think about your overall storage needs. Will you be storing food, utensils, spices, dishes, and how much?
Once you start to measure your space, you will quickly see how the answers to those questions play a vital role in how your final dream kitchen will come together.
Measuring Your Space Step-by-Step
Before you book your consultation with a Kitchen Craft Designer, follow these steps to gather all of the measurements for your kitchen space. Remember to measure twice if you're unsure because accuracy is critical for your designer to get started on your project:
To begin, draw an outline of your space
Measure and note the ceiling height
Measure and note the lengths of each wall
Check your corners for square at the floor, base and wall cabinet levels to determine if you will have any issues during installation. To check for corners for square:

Mark a point 3 feet out from the corner of one wall
Mark a point 4 feet out from the corner of the adjacent wall
Measure the distance between the two marked points, if the distance is 5 feet, the corner is square (If your walls are not square, don't worry, your professional Kitchen Craft Installer will be able to work around any issues by using shims between the cabinets and the wall)

Measure and note the location of any obstacles along each wall, recording their height, width and depth from outside edge to outside edge (Include doors, windows and pipe chases)
Identify and note existing plumbing, electrical and lighting locations on all walls including:

Plumbing
Range hook-up
Light switches
Electrical outlets
Lighting fixtures
Phone jacks
Heating/Air vents

Record the height from the finished floor for items like windows, outlets, and vents
Record measurements of any free-standing furniture pieces or appliances that may stay in the room
Have an electrician check the electrical service panel conditions to ensure it can handle any change of appliances you may be making in the kitchen
If attic or basement walls will be affected by the renovation, make sure any plumbing or venting changes are verified by a professional
Important Kitchen Space Measuring Tips:
Make note of all your window sizes and placements
Also note the locations of all ventilation/duct-work on your rough drawing plan
Measure any items that will stay in the room and relate those to your new floor plan
Make note of any electrical details, such as switching and outlets that need to stay, or could possibly be moved
If you will be working around existing lighting fixtures, list their dimensions to avoid any obstruction with taller items like pantry cabinets, refrigerators or decorative crown mouldings
I you're doing this yourself, once your space has been completely measured, double and triple check the measurements prior to booking your design appointment with a Kitchen Craft Designer
Mentally Plan Your Space While You Measure
As you move around the room and measure your space, it's a good idea to be making mental notes about the final look and feel of your kitchen remodel.
Look at ways to make the most of the space you have available, both horizontally as well as vertically. If you have higher ceilings for example, perhaps plan for and measure to see if tall pantry cabinets could be added to your design.
Another important point to consider is if you're planning to move anything that currently exists to another location in order to create a better layout which will function better for you in the long run.
Knocking down walls and/or relocating your sink can make a huge difference, but those changes need to be addressed and noted in these early stages of your planning process.
Now that you're armed with all of the knowledge necessary to take and record accurate measurements of your intended new dream kitchen, we want to encourage you to take on this important step in the process in order to be able to provide your Kitchen Craft Designer with everything they need to get you started!
Remember that you can rely on the experience and expertise of your Kitchen Craft designer and their extended team to create a kitchen design you will love. Come back for our next post when we will explore the next step in your journey: Kitchen Organization.
---
Get started today!
Contact a designer at the location nearest you to schedule your first appointment.
Enjoy your new Kitchen Craft kitchen!
2866 Calgary Trail NW
Edmonton, AB
T6J 6V7
Phone: 780.465.6531
1434 Broad St.
Regina, SK
S4R 1Y9
Phone: 306.522.8949
1500 Regent Ave. W
Winnipeg, MB
R2C 3A8
Phone: 204.661.6977
1659 Kenaston Blvd
Winnipeg, MB
R3P 2M6
Phone: 204.489.0455